Have a read of this brief and handy guide for companies aiming to outsource Software Development Services or manage development teams remotely while keeping risks to a minimum.
Software Development Company outsourcing: What to consider
Finding the right outsourced software development company to partner with is a challenge. Too many are let down by clients, and too many aren't what they appear, making online dating look like a walk in the park.
One of the most common mistakes is pick price over value. Lower prices don't mean higher quality! Clients that pick those that offer the lowest price don't always get the value and quality they need, and often end up paying more over time.
Here are a few things you need to consider when selecting a software development company to work with:
Start with researching the background of your possible offshore software development partner. Don't hesitate to ask for the previous successful projects. Check how many years experience the company has. One thing to consider, if you want to dive a little deeper is the age of the company domain name. If you read 'ten years experience', but it was only registered a year before, it could be a cause for alarm.
Know what you need before stating to look. There are two kinds of offshore software development services providers: the freelances and legitimate companies with a brand name and reputation. No doubt, it is much cheaper to make a deal with freelances, but you must be prepared for the high probability of numerous delays and other challenges. Add to this the quality which varies from one individual developer to the next and think twice. But the small-scale project can be very cost-effective if you are lucky and researched your freelancers well. On the other hand, a bigger project will be easier to manage for an established offshore company with a good reputation, an excellent references, and previous experience doing larger projects.
Other factors to consider:
How a project is costed (time estimates);
Full testing support and quality control;
A strong portfolio;
Security experience and expertise;
Communication skills.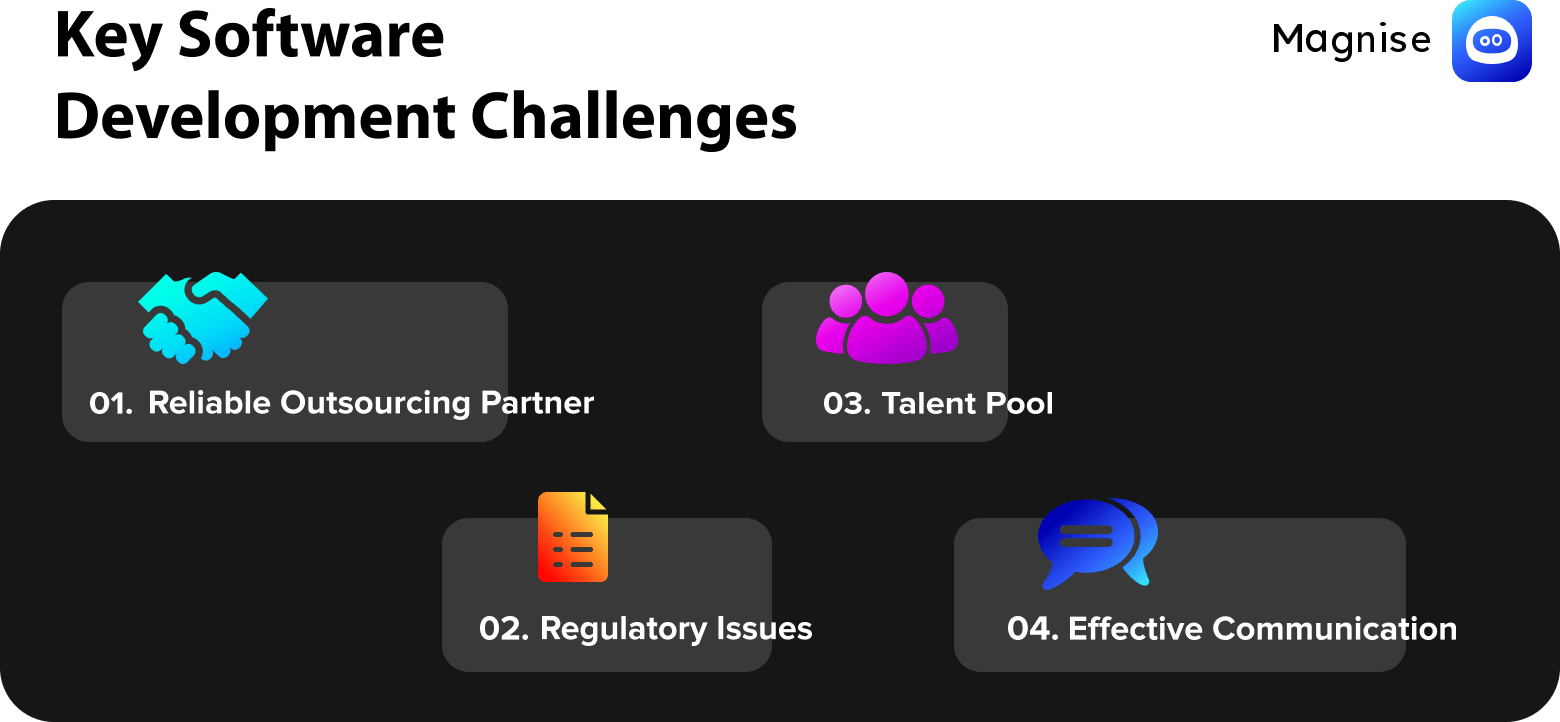 Legal and regulatory issues to consider in Software Development
It's always important to understand any legal issues in the country where you are recruiting software development subcontractors. Keep in mind that the legal conditions vary on the types of cooperation models you choose to work with.
Don't forget about the following abbreviations: ISO, PCI DSS, and GDPR. Your software development company must have certifications and comply with these regulations, especially when considering the end-client and users.
Talent pool and knowledge transfers
Another important aspect is the way of the talent hunting of your software development serviceshttps://www.magnise.com/custom-software provider. Ask how do they work with young specialists? How is knowledge transfer ensured? How do they provide retention? Answers will give a lot to assess the level of the company.
Most established software development companies have a recruitment and training scheme for graduates, either those straight out of university or with a bit more experience. The aim of these efforts is talent hunting and lead-up of the most appropriate specialists for the companies purposes. Companies with these departments are stronger more reliable partners.
Another sign of a software companies suitability as a partner is the presence of a well-thought-out system of rewards, awards, and professional growth. Attitude, company culture and morale makes a big difference. You can expect a responsible approach to software development if a company is doing the best to retain the talent you need for software projects.
Communication and Culture
As a minimum, you need developers with a comprehensive level of business English, component and skilled at communication. It will be reasonable to learn cultural, mental, and professional differences before contradictions and confusion stacks up. Also, take care to handle communication in different time-zones and schedules aligning.
When it comes to working with an offshore software development business, these are a few of things worth considering.
We have been in business for over 15-years, and have significant experience, which allows guaranteeing a responsible and professional attitude in searching and estimation of the software development service. We are open for cooperation. If you have some questions or need help, please contact ushttps://www.magnise.com/form. Let's see how we can help solve your challenges and create the software your company needs to grow.
Back to blog