Wonder how to launch a tech company from scratch? Here we describe typical European startups, their founders' characters, and key challenges they are facing.
European startups emerge on world tech scene everyday, but too many of them fail. Among others, roots for this goes to the very startups founders' spirit. According to The State of European Tech Reporthttps://2019.stateofeuropeantech.com/, in Europe, startup founders are from one quarter to half an immigrant, three-quarters of them have a bachelor's or master's degree, with 7% at PhD level.
Only 21% of founders are female, although there are more and more women founding startups and taking C-suite and board level positions. Despite significant progress with diversity initiatives, 84% of founders are White\Caucasian.
Most founders are fairly young, with 40% aged between 26-30 years old, 7% are over 40. But in France only, as many as 20% are over 40. Across Europe, despite the prevalence of younger founders, those with more experience often raise more money.
Interestingly, typical startup founders often have experience with U.S. companies: Microsoft, Google, and BCG seed the top ten companies founders. Among the European companies, Nokia is the highest-ranked and Rocket Internet is the only Europe grown company that makes the Top 15 globally.
Starting Capital Investments: how is funding raised?
50% of first-time founders set-up and launch companies with less than $25,000. However, serial successful founders tend to invest much more substantial amounts: 32% of experienced founders are ready to raise and spend more than $500,000 to support a new startup.
Women are braver and for the first time, are ready to start, either without any money or less than $25,000. According to the ethnic self-identifying data, 60% of Black/African/Caribbean started their business with no starting capital or with less than $25,000. If we are looking at the financial sources, we can see that the overwhelming majority of founders use their own savings to launch company.
Startup Founders: how do they survive?
The founder of the European tech startup is a human being at first. But as the startup founder, he is facing specific issues:
Balancing more stressful than average work and personal lives;
Loneliness at the top;
Securing access to talent and capital.
While most of the challenges are the same for men and women, we there is something of a difference when it comes to the problem of securing access to starting capital, finding a reasonable balance in their personal and working lives, and finding mentors and advisors. Women are more concerned about these issues, and often, better equipped to handle them.
However, when it comes to serial founders, they pay much more attention to securing access to talent, which is one of the biggest problems.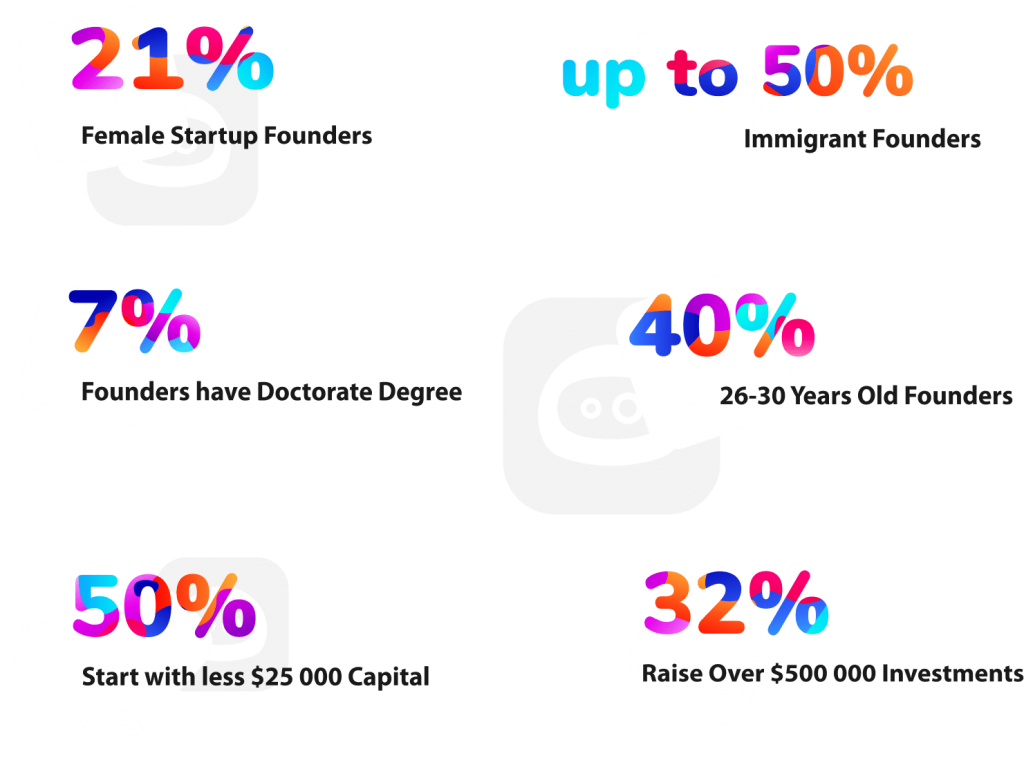 Strong Talent Base, Investments, Clients, and HR Costs
Taking into account the fact that a quarter of the first-time startup founders are immigrants, the invests potential plays its role too, but the talent base is a crucial factor in the success of a startup. Don't forget to add the client's availability, cost of living, and you get a precise picture of the reasons which European founders take into consideration when deciding to choose the place for headquarters.
In comparison with US companies, European startups take a different attitude to founder compensation.
The average startup founders retain, after the Seed round, nearly 32% in their company, but it declines to 15% after Series C. It can be explained by the fact that the latest generation of companies from Europe is seeking to involve their most talented executives and employees in the companies' future and retain them that way.
Summary
To succeed in launching tech company, you need to bring the following crucial factors for successful new product development: talent base; clients availability; cost of living.
The investment's availability for the starting capital is not critical on the Seed round. For example, if Copenhagen business has the highest level of the share of the professional development talent (86%) and quite good access to investments, but the cost of living is so high that it neutralizes any benefits of the previous factors. So, the balance between these three parameters is the determining factor for successful startup.
To a stronger chance to succeed, it seems to be reasonable to contacthttps://www.magnise.com/form repeat vendors like us to gain fully fledged software development service from scratch. We know the answers and 15 years of experience at this market are an excellent recommendation to deal with. We are ready for cooperation and qualified enough to avoid tons of problems you will face sooner or later.Get in touch with us now!https://www.magnise.com/form
Back to blog